The BGN News Archive
June 29, 2015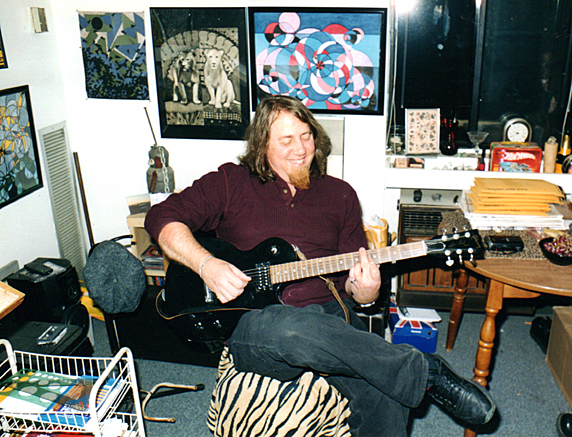 Billy Borgioli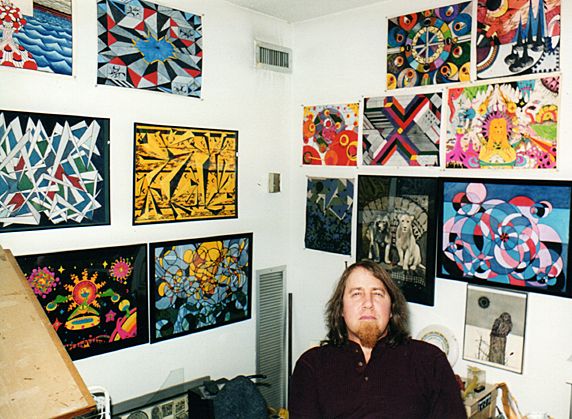 Billy surrounded by his art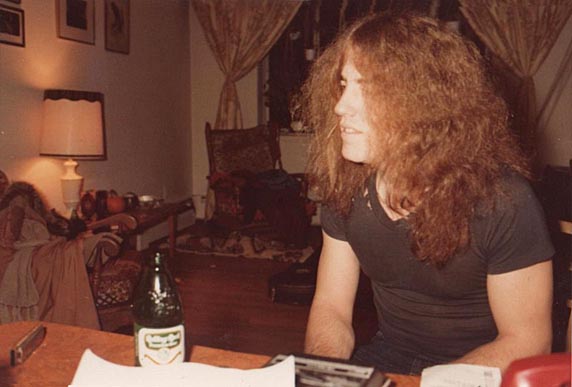 Photo: Denise Donahue
FRANK ROWE says: Denise took this picture on Valentine's Day 1979. He was looking for a room to rent, and I suggested he could move in with us, but Denise said that if that happened, Billy was so hot that I would have to leave.
Sadly we start of this week's news with the passing of Billy Borgioli. Guitarist in the original Real Kids and later in the Varmints, Billy was also a talented visual artist and a very much loved member of our community. As many know, through the years, he has fought back from previous health problems including a coma and cancer...twice! This past Thursday he suffered a brain hemorrhage and passed away on Saturday June 27th. We are all shocked and saddened by the loss of someone who meant so much to our music scene and meant so much to so many individuals as well. The loss of Billy will be far reaching but is especially difficult of Nancy Neon who has been with Billy and taken care of him for many years now. From Nancy we've been told that she and Arthur Freedman will work together to plan a Celebration of Billy's life, music and art. We'll keep you posted for more news on that. RIP Billy Borgioli. Tell Alpo we all say hi!!
The BGN interview with Billy Borgioli. CLICK.
In some other news
Brian Viglione who was the drummer for the Dresden Dolls is now the drummer of The Violent Femmes and they recently recorded a new batch of songs with Martin Bisi at his legendary studio in Brooklyn.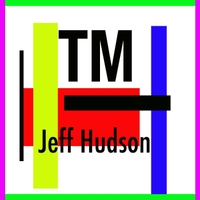 Jeff Hudson of The Rentals and Jeff and Jane Hudson fame has a new CD out, its available at CD Baby.

The RPM (Rock, Punk, Metal) Fest 2015 has a Kickstarter page going as a way to raise money for the three day multiple stage outdoor festival coming up this August 28, 29 & 30. It'll take place in Greenfield, MA ...actual location to be disclosed at a later date. They already have 35 bands booked for the fest. Donate some money and get various cool stuff. Check it out here: RPM Fest 2015.

Supersuckers had to cancel their European tour that was set for this summer because lead singer Eddie Spaghetti was recently diagnosed with stage 3 cancer. To assist with his treatments a fund raiser page has been set up. Find out how to give here Eddie Spaghetti Cancer Fight.

Now here's a report on what we saw this week for music:

The Weirdos and The Adolescents have spent June touring the U.S. together. You'd think the line up would have big drawing power, but the Brighton Music Hall was maybe ¾ full; it was a Wednesday night, we get it….but still.


Miss Lyn complained too many guys in the hall reeked of BO…and bad. Quiggs Bass player Swid was there and posted on Facebook "If punk shows are judged on how bad the audience smells, this show is pretty awesome!" and said "it was even just BO - it was distinctly poo-like." I guess because of the few warm days leading up to Wednesday ripe smelling punks seemed to hanging out everywhere, inside and out of the venue! Whatever it was nobody was smelling like roses.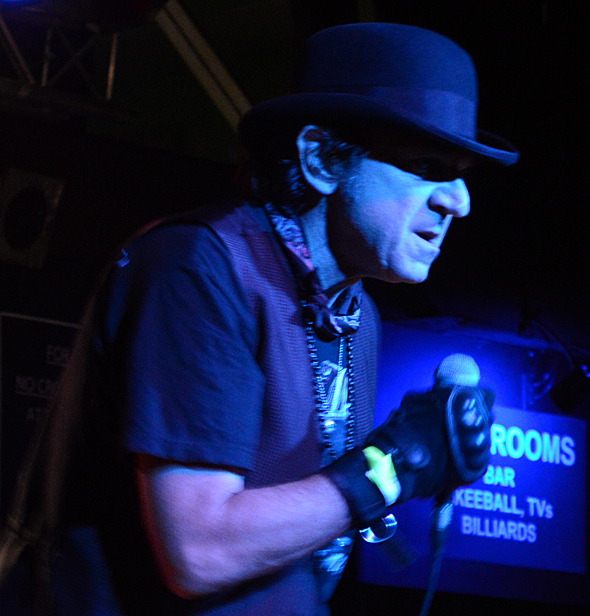 Weirdos
The Weirdos were one of the earliest punk rock bands starting in 1975 in LA. Their single We Got the Neutron Bomb is one of those early punk songs that had endless air play and sums up a lot of the spirit of that time.
The lead singer wore a bowler hat and looked a decidedly droog like. Mugging constantly through the set he'd mush his face up and make all kinds of funny faces. The Weirdos historically would mess up and do stuff to their clothes and this show was no exception with their pants and jackets hand painted in splotches of color. The bass player was clear in the mix and had a warm tone and bass lines that made every song sound full. Neutron Bomb was the highlight as you'd expect. Here's a good history of the band written by John Denney the lead singer.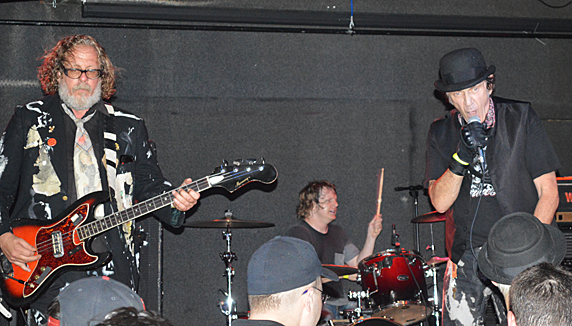 Weirdos
The band still carried off their old sound after all this time. There wasn't a lot of variety in their songs but we didn't mind that too much. We love the old punk sound....the audience this night did too!
The Adolescents stepped up everything when they came on: it was more band members, more volume, more speed, more excitement and more frenzy in the pit. They still have two members from 1980 with Steve Soto on bass and Tony Cadena doing vocals. They satisfied us all with multiple songs in a row with fast rhythm and tempo changes. The overall sound was loud and punchy. The audience rewarded them with a vigorous, if not purposely nasty, circle pit.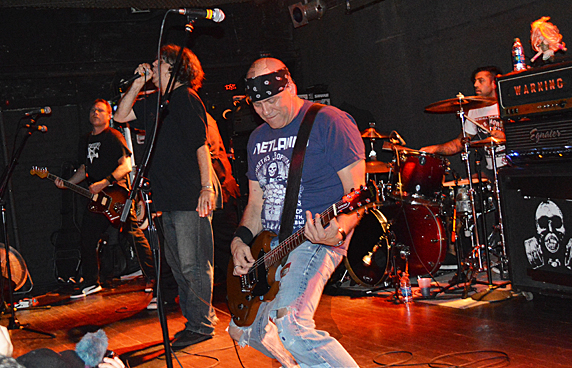 Adolescents
Photographer John Nikolai was right up front and got elbowed in the face by an aggressive idiot who seemed to have an agenda for such things. The whole set was really great with the highlight being Amoeba. Tony the singer got very chatty during the second half of the set. He seemed to have a problem with a heckler upfront. He was trying to make fun of it but seemed genuinely annoyed. it caused long pauses between songs, the exact opposite of how they started their set. The guitarist was wearing a Svetlanas t-shirt which we thought was pretty cool. It turns out the Adolescents did a split 7" with them which was released back in January called Hot War.
All and all it was an excellent night of punk and that's what we are always searching for.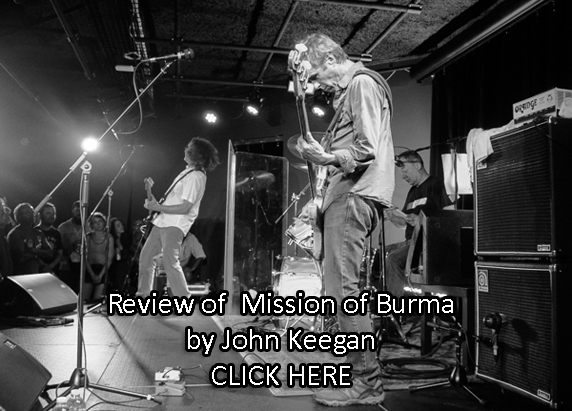 And in other news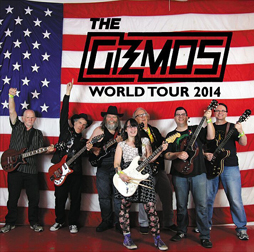 The Gizmos World Tour CD has finally been released by Gulcher records. All songs recorded live during the 2014 Gizmos World Tour:


"The Gizmos rock their way through all 15 of the songs from their three EPs: "Kiss Of The Rat," "Mean Screen," "Regular Dude," "Amerika First," "Human Garbage Disposal," "Muff Divin'," etc. Plus the MC5's "Black To Comm" and "Ramblin' Rose," "The Devil Talks In Tongues" by Eddie's band Crawlspace, Kenny Kaiser's "Don't Get Fresh With Me" (from the 1978 Korps LP with Kenne Highland), and a brand new Gizmos song from Ted Niemiec called "Around."
Plus a couple bonus tracks: Bebop Betsy's radio interview with the Gizmos right before their tour kicked off, and an interview that appeared on a vinyl single giveaway for Gonerfest." And you can get yours here!!

Here are some shows that are happening this week....

July 1 (Wednesday) Looks like there's another new place for music in Salem - Koto (90 Washington St.) and on 7/1 they have The FU's, Profit Margin and Damp. They also have Sushi Classes!!

July 3 (Friday) A Rockin' Farewell to TT's - sigh- with The Cranktones, The Millwinders, Jittery Jack , The Allrighters, Johnny Carlevale &The Rollin Pins, Jeff Deware &The Bop Thrills and DJ Easy Ed setting the tone between sets are at TT's (here's the FB page for this one) Be there or be square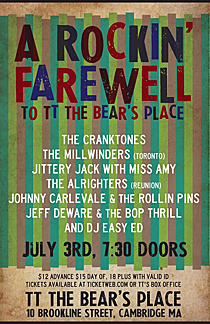 July 3 (Friday) Tsunami of Sound, Beachcombovers are at Sally O'Brien's
July 5 (Sunday) Caged Heat (yup with Chilly Kurstz, they're back!) , Greg Allen's Fringe Religion, The Low Babies and Lady Pilot are at The Midway. This is an afternoon show at 4PM! Here's a recent interview with Chilly on Blowing Smoke.
And coming up after this week we have.......
July 10 (Friday) Mr. Airplane Man are back in town with The Monsieurs and Party Pigs are at Cuisine en Locale (FB event page)
July 10 (Friday) a little more North, in Salem there's the Salem Wolves, Oh the Humanity, The Jukebox Romantics and Ghost Ayeria at Koto (90 Washington St Salem) Their show are only 5 bucks!!!! (FB event page)
July 11 (Saturday) Mudhoney along with White Dynomite will be at The Brighton Music Hall
July 11 (Saturday) The FUs, Ungraded, Sewer Rats, Jay Allen and the Arch Criminals and Kenny Chambers are at Cuisine en Locale
July 11 (Saturday) it's official The Gizmos (and a TON of other bands) are playing Mutant Fest II at the Blockhouse in Bloomington IN. FB event page
July 12 (Sunday) it's the final TT's Rock n Roll Flea Market & Bloody Mary Bash 11AM- 5PM and its Free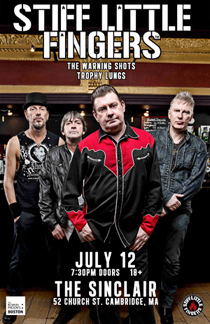 July 12 (Sunday) At The Sinclair there's Stiff Little Fingers with The Warning Shots and Trophy Lung.
July 12 (Sunday) at The Midway are Beantown Boozehounds, El Escapado, Lucky United, Deranged Youth and Bad Movies
July 14 (Tuesday) - WHAT a great show this will be The Rezillos with Petty Morals and Casanovas in Heat at Johnny D's. And the Rezillos have a new full length CD out. There will be a CD and a limited edition vinyl album available at the shows !! Get tix here.
July 17 (Friday) through July 25 (Saturday) - make sure to keep your calendar open for the TT's Farewell Bash happening all week!!
July 17 (Friday) at Club Bohemia - Greg Allen's Fringe Religion, Caged Heat, and the Black Souls.
July 17 (Friday) at Sally O Brien's - Richie Parsons, Aca Brebner and The Trick Wallace Trio
July 17 (Friday) at The Midway - The Dirty Truckers, A Bunch of Jerks, The Dents and Jay Allen & The Archcriminals
July 17 (Friday) The Brigands are putting on a Wounded Warriors "Garage Night" Benefit at Spotlight Tavern in Beverly, MA. Here's who's on the bill and the music starts at 9PM: Pop Gun, Corolla DeVille, The Brigands, The Flying A-Holes and Gary Shane.
July 18 (Saturday) Roy Sludge Trio is doing an early show (6PM) at Sally O'Brien's. Perfect for dinner and music!!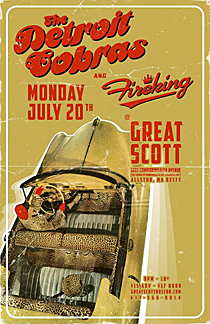 July 18 (Saturday) Mission of Burma opens for The Foo Fighters and the Mighty Mighty Bosstones at Fenway Park
July 20 (Monday) The Detroit Cobras and Fireking are at Great Scott - Get your tix here.
July 22 (Wednesday) Jaz Coleman founding member of Killing Joke is doing a Spoken Word performance at The Middle East Down. its al about his new book: "Letters from Cythera". Jaz will delve into his many experiences that have influenced his philosophical outlook on life and also discuss, Supersynthesis, a principle which has facilitated his many accomplishments including acting, conducting, singing, composing, geometry, architecture, and occult history. Tix available here. This one will be different, there's seating and VIP seating tix for this show.
July 24 (Friday) WOW! check this out: Bim Skala Bim and the Pajama Slave Dancers are at The Middle East Down along with Brunt Of It, Zeme Libre and The Porter Squares
July 24 (Friday) at The Midway - BrownBoot, Barbusters and Hambone Skinny
July 25 (Saturday) The final day of TT The Bear's Place...and they have Scruffy The Cat this night!!
July 25 (Saturday) Muck & The Mires, The Nervous Eaters and Richie Parsons are at The Midway (FB event page)
July 25 (Saturday) The Shambolics, Greg Allen's Fringe Religion, Jay Berndt & The Orphans are at Sally O'Brien's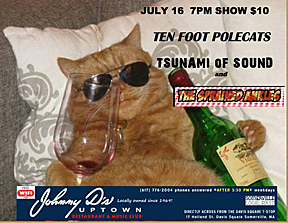 July 26 (Sunday) a Matinee Show at the Middle East Up - 1PM doors with Band Without Hands, The Knock Ups, Radio Compass, and Happy Little Clouds
July 26 (Sunday) Screeching Weasel, plus The Queers and The Mr. T. Experience are at The Royale. You can get tix here. This is a 6PM show!!
July 26 (Sunday) Matinee show at The Middle East Up with Band Without Hands, The Knock Ups, Radio Compass, Happy Little Clouds. Doors are a 1PM
July 30 (Thursday) There's a mega hardcore show at Cuisine en Locale with Power Trip, Foreseen, Boston Strangler, Peacebreakers, Freedom, Fury, Red Death, Intent, CIAC and Take Control. Music starts at 6:30 SHARP doors are at 6.
July 30 (Thursday) X, with all original members, are at The Sinclair Tix here
July 31 (Friday) "THE DAMNED: Don't You Wish That We Were Dead" documentary is FINALLY playing in Boston!! It's at the Regent Theater at 7:30. You can buy tix here. Watch the trailer here.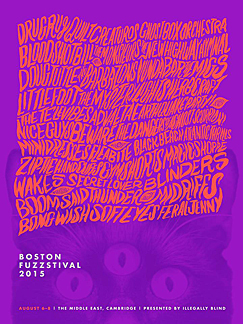 August 1 (Saturday) The Static Dynamic, The Wrong Shapes, Hope & the Husbands and Alchemilla at The Middle east (FB page for upcoming updates)
August 2 (Sunday) A Punk Show at Koto with USA Waste (ex A Global Threat), Adults, The Earbleeds, Gravel and Farce!
August 3 & 4 (Monday and Tuesday) Darkbuster returns!! at The Sinclair. Well, no tix available anymore congrats to Darkbuster for two night of sold out shows!!!c
August 3 (Monday) Tsunami of Sound and The Vista Cruisers are at Opus Underground, Salem.
August 6-8 (Thursday - Saturday) Boston Fuzzstival 2015 is at The Middle East Down. The Fuzztival highlights "the best bands in the region that make psychedelic/fuzz/garage/surf rock" and its goal is "to build bridges within the local music community." Stay tuned for the lineup and more info keep checking their FB page!
August 8 (Saturday) - Head over to Store 54 to help Bob Colby celebrate his birthday (two days early) with The Rationales and My Own Worst Enemy!
August 8 (Saturday) - The Bush Tetras and headlining at The Sinclair and also on the bill are E, Gene Dante & The Future Starlets and DJ Gang of One (Gang of Four's Hugo Burnham) get tix here.
August 8 (Saturday) The Memphis Rockabilly Band are doing an early show at Johnny D's (FB page) 7-9PM

August 14 (Friday) at The Midway are The Connection, The Above, Fireking & Special guest to be announced...watch for updates on the FB event page
August 22 (Saturday) Memphis Rockabilly Band is at the Marshfield Fair. check out the particulars here
August 31 (Monday) The Fake Boys, Petty Morals, BDSX, Spectre Hawk and The broken glass kids at Opus Underground Salem.
and of course The New England Shake-Up! September 25,26,27 2015! Keep yourself updated at their FB page
CONTACT US AT......misslynbgn @ yahoo.con Send us your gig listings, your news and anything else ya got!!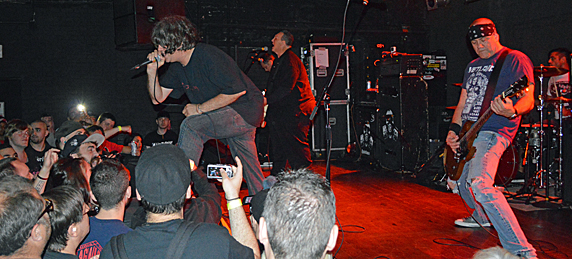 Adolescents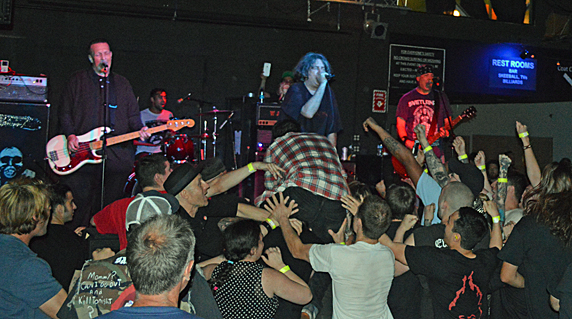 Adolescents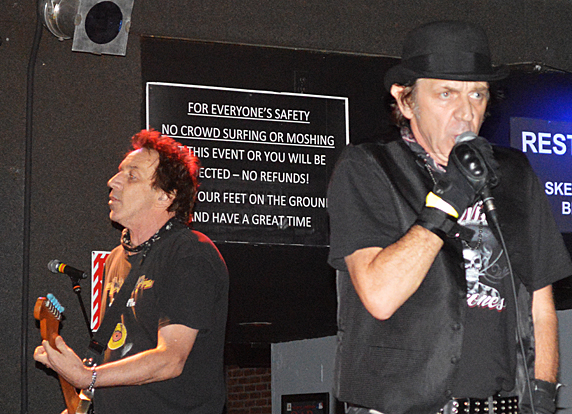 Weirdos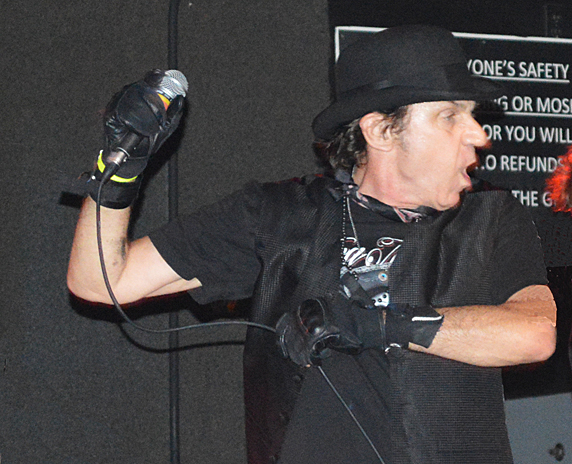 Weirdos