The BGN News Archive
October 19, 2015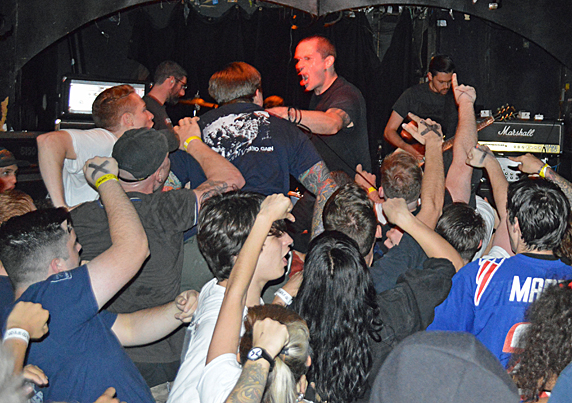 No Tolerance at the Middle East
Getting tickets beforehand made sense this week as Titus Andronicus sold out the Brighton Music Hall last Thursday. I liked the songs I've heard but I didn't have a full idea of what they were doing. I left very impressed.
They are a modern band with lots of older influences. They take a lot from the 70's and some from the sixties and then they are apt to scoop up anything they hear. Their brilliance is that they take a wide swath of influences and interests and process them through the group making them seem part of something bigger.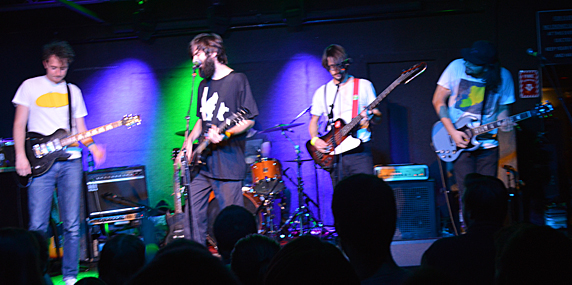 Titus Andronicus
Sometimes they're not far from the Allman Brothers with the twin guitar leads, or the Band with their grasp of Americana other times the songs have the feel of a jig or reel. I'm not big on some of that but it does add to their appeal.
After the low key intro song they got noisy and never looked back. There were many highlights. Patrick Stickles the front man is a smart guy. His lyrics are not run of the mill; the album The Monitor dealing with the Civil War being the obvious example.
The Brighton Music Hall is not comfortable when it's sold out. On top of that the whole front half erupted with moshing regularly. I've never seen the place jumping like that. There was crowd singing too.
I didn't just like them I think they are an important band doing some smart alchemy on the music end coupled with interesting lyrics. I'm going to give their recorded efforts some closer listens and keep track of what they come up with in the future.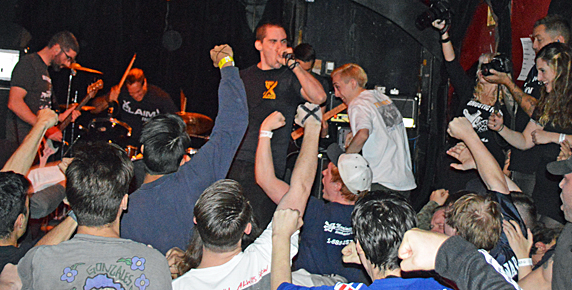 No Tolerance
Something was different at the early afternoon hardcore show at the Middle East up this Saturday - there were people there. Every other time I've been there it's been sparse. One change was the lineup which was specifically straight edge. I never knew but October 17 is National Edge Day. When the club door opened a waft of humid air hit me and I knew I was in for a sweatfest.
The club was as full as I've ever seen it and as crazy as I've ever seen it too. Eighty percent of the floor in front of the stage was a total moshing area. A common thing was for someone to take a running start and leap up onto the people in the edges of the pit. It was flying bodies all through the time I was there. People love to say Boston people are staid and don't dance but you have to make the hardcore people an exception. To judge by Titus Andronicus and this gig you would think the Boston audiences are a pretty rambunctious group.
I didn't get many photos. It was just try-to-stay-alive time for me. I heard Waste Management and No Tolerance. They both were intense hardcore. No Tolerance was the more brutal maybe but the distinction is useless really. There were four other bands on the bill. It was just another hardcore show with no publicity but it was very exciting like a lot of these shows are.



Club Linehan a go go
Photo: Arthur Freedman




Hixx
Photo: Arthur Freedman




Los Texicanes
Photo: Arthur Freedman




Micky Bliss
Photo: Arthur Freedman
Arthur Freedman got to the Cantab on Friday to see Los Texicanes, Hixx, and Club Linehan A Go Go. ....Los Texicanes PHOTO 2...Hixx PHOTO 2 - PHOTO 3....Club Linehan PHOTO 2
We are catching up with last weeks four day Rat Beach Party with coverage of Friday nights bands which incluced Fox Pass, Love and Flame and Clash tribute band Charlie Don't Surf, Moose and the Mudbugs, Pop Gun, Lizzie Borden and the Axes, and Climate Change. This is from John Keegan which means great photos too. There are also some photos of Saturday's bands mixed in there too.
Other News........
Saturday Elvis Costello gave a book reading at the Berklee Performance Center. One person who went said it looked sold out. Elvis read from the book, showed slides and short videos and took questions. The book is on the big side with over 650 pages.
Club dates: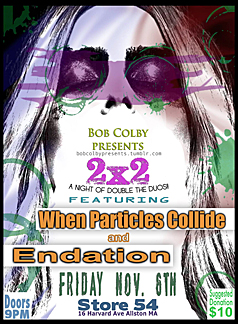 October 19 (Monday) Illegally Blind is putting on a show at the Middle East with Drinks, Daniel Bachman, Droor, Bong Wish

October 19 (Monday) You can catch Atlantic Thrills from Provy. We like them. Along with them is Shannon and the Clams and Shopping. All this at Great Scott's.

October 23 (Friday) As part of Crash Safely 2015 A Benefit for the National MS Society the Middle East Up has Township, Watts, Unnatural Axe and Fireking - that's a GREAT show!!

October 24 (Saturday) Greg Allen's Fringe Religion along with Jane Lee Hooker are at Johnny D's FB page This should be an amazing show folks!! Check out this Jane Lee Hooker viddy.

October 24 (Saturday) Do Not Forsake Me Oh My Darling have a gig. Haven't seen them around lately. Along with Alice Bag and Drab at O'Brien's.

October 24 (Saturday) M.O.T.O., The Black Souls, Thee Sonomatics and Apollo Blue are at The Midway FB Page

October 24 (Saturday) Kinski are at Cuisine en Locale

October 25 (Sunday) - TRiPLE THiCK, Pat Todd & The Rankoutsiders (ex-Lazy Cowgirls), Thee Itchies and Hambone Skinny are at The Midway - Kenne Highland will be joining Triple Thick on a few songs too.

October 25 (Sunday) The early show has Rockin' Bob Punk Band (Bob Cenci of Jerry's Kids), Broken Stere and Jason Bennett & The Resistance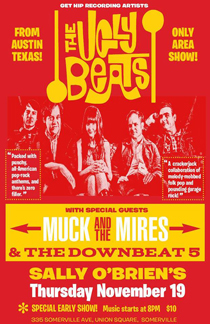 October 29 (Thursday) Illegally Blind is throwing a Halloween Party with Vundabar, Creaturos, Televibes, Mini Dresses, and Wakes at The Middle East Up
October 31 (Saturday) a Halloween Show at PA's Lounge with All The Rest Burlesque, Women's Wrestling by: BLOWW along with music by The Deaf Cats and Strangers with Knives
October 31 (Saturday) a Halloween Show at the Midway with The Satanics, Devil On Horseback, The Drawstring Lamps as Dead Kennedys, Ian Cat & the Crimsons as My Bloody Valentine
October 31 (Saturday) Halloween Show at O'Brien's with PJ Harvey by Mud Dive, Hole by The Knock Ups, The Smiths by Four Point Restraints and The Pretenders by lotsa folks
November 5 (Thursday) The beast that is known as BOSTON HASSLE FEST 7 starts at the Central Square Elks Lodge. Home Blitz and lots more bands.
November 6 (Friday) a Bob Colby production at Store 54 with the intense Endation , and another two person group When Particles Collice ...the Store 54 gigs are the coolest shows you can go to. So, take the hint.
November 6 (Friday) BOSTON HASSLE FEST 7 continues at the Brighton Music Hall . Screaming Females, Battle Trance, Dreamcrusher, Form A Log & more.
November 7 (Saturday) BOSTON HASSLE FEST 7 continues at the Brighton Music Hall . Flipper (w/ David Yow),The Channels, The Lesser Knowns, Obnox, & more.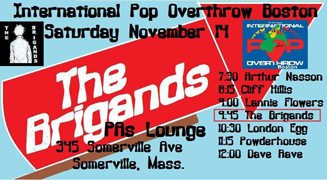 November 6 (Friday) at PA's Lounge: L.S.C (Light.Sweet.Crude), Happy Little Clouds, The Knock Ups and Easy Reasons
November 10 (Tuesday) Jonathan Richman with Tommy Larkin on drums will be at the Somerville Theater. Its a 7PM show. Tix are $21. We saw Jonathan and Tommy at the Middle East Up in March last year and it was FANTASTIC!!
November 11 (Wednesday) International Pop Overthrow is at PA's Nov 11- 15 Day One starts at 7:30 with Trick Wallace Trio, Natalie Flanagan, The Eric Barao Band, Marriage Material, Bedford Davis and SHIRR FB Page for all days
November 12 (Thursday) International Pop Overthrow at PA's Day Twostarts at 7:30 with Skyler and The Brit, Oberon Rose, Richie Parsons, The Tripping Souls and Powderhouse
November 13 (Friday) International Pop Overthrow is at PA's Day Three: starting at 7:30 with Corin Ashley then Michael Oliver & The Sacred Band, The Forz, Big City Rockers, John Powhida, Fireking and 1.4.5.
November 13 (Friday) NoBunny, The Monsieurs, Nice Guys and Gym Shorts are at The Middle East Up.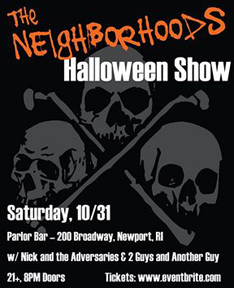 November 13 (Friday) The Furs, Tom Baker and the Snakes, The Blue Ribbons and Peter Buzzelle and The Academy are at The Midway (FB page)
November 14 (Saturday) International Pop Overthrow is at PA's Day Four starts at 7 :30 with Arthur Nasson then Cliff Hillis, Lannie Flowers Band, The Brigands, London Egg, Watts and Dave Rave
November 19 (Thursday) This is going to be a fun gig - Muck and the Mires along with The Ugly Beats from Austin and then The Downbeat 5.
November 25 (Wednesday) It's Thanksgiving Eve...what better time to head over to the Brighton Music Hall for an amazing line up of The Flamin' Groovies, Muck & The Mires, The Connection and Fireking!! WHOA!!Tix here.
November 25 (Wednesday) Another Thanksgiving Eve party over at the Sinclair for the The Daykamp Poster and Photo Show featuring The Sheila Divine, Sidewalk Driver and Weakened Friends.
December 4 (Friday) Kermit's Finger, Penis Fly Trap, Padded Hell and The Unstables at O'Brien's
December 5 (Saturday) Corrosion of Conformity with Brant Bjork, Saviours, Mothership at The Brighton Music Hall
December 8 (Tuesday) Oh Oh OH!!! Rocket From the Tombs is at the Brighton Music Hall!
CONTACT US AT…….misslynbgn@yahoo.com - Send us your gig listings, your news and anything else ya got!!