The BGN News Archive
December 15, 2014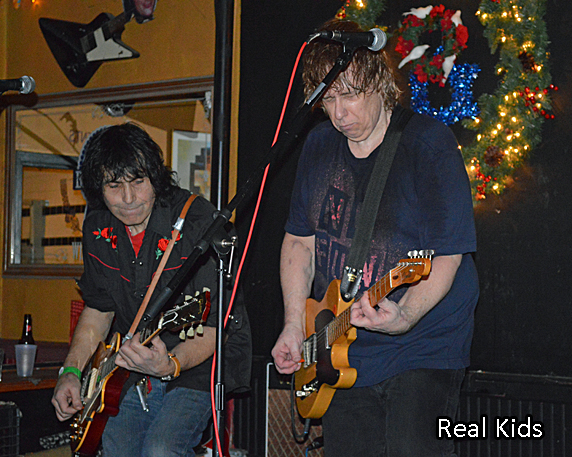 The intention was to do unpublicized shows over the summer to get tight and then an announced show as a capper. I hit a few of those early weekday shows over the course of August and I felt like it was the Summer of Real Kids for me. I could see them working out issues week after week and getting some great performances in. The Real Kids sold out show on Friday at the Midway was that show. It probably would have been last month in Salem but as we know that did not pan out.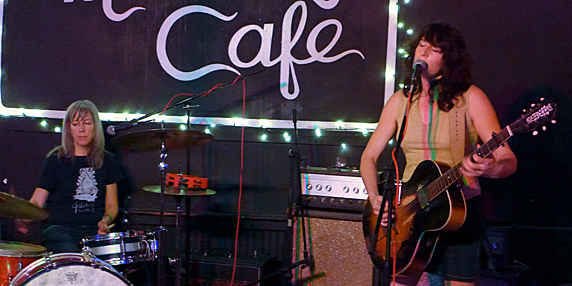 One last minute twist to the show this Friday was that Mr. Airplane Man replaced the Nectarines on the bill. Mr. Airplane Man had done a week of reunion shows and just released Love of Ivy, a CD of tracks from Fat Possum, recorded in 1999 and 2000. They've been getting mucho press and attention. At the Midway they were getting the love. There's a well of good feeling for this duo. On stage they have a straight forward demeanor just like their music. They take every adornment away and then see what the basics will reveal. It's minimalism couched in Swamp rock. You have to slow down and really listen to catch the subtleties and this crowd did.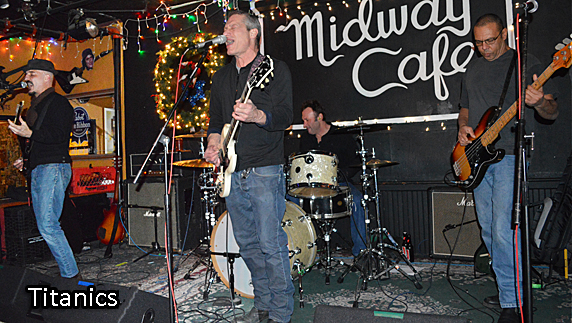 The Titanics were the musical opposites of Mr. Airplane Man. They add riffs, licks and counterpoints to dress up every inch of their material. They start with High On Drugs that has that distinctive picked chord opening. Then there is Nat Freedberg's voice; talk about distinctive.
The Titanics don't play much nowadays but Nat Freedberg and company play in the other incarnations; Upper Crust, Satanics and Flies and are always well rehearsed. If you lined up all the best songs from those groups you would have a impressive collection for a CD. Shouldn't that be done? Their high energy presentation seems even more pronounced after the low key Mr. Airplane Man. The obvious songs stick out like Stayin' On The Right Side Of Satan and Man's Inhumanity to Man but all the songs are of a kind and all are a platform for tasteful guitar antics.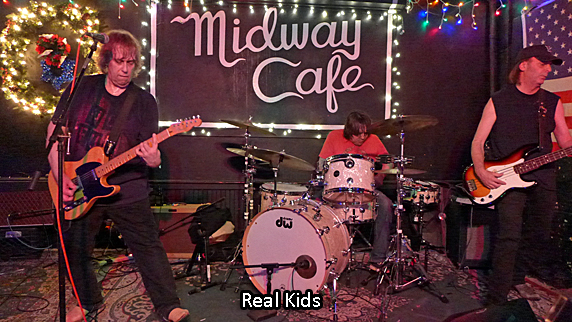 That would be a good night if it stopped right there but now we get the Real Kids. The room was room full of Real Kids fans. There from the openers, Mr. Airplane Man, they stayed till the end.
The Real Kids kick off with She Don't Take It, then Can't Shake That Girl and No Fun No More, and they are rocking hard and they never stop. They are proving that they are fully ramped up and further, that the new CD material is equal to all their older classics. Those summer trial gigs have tightened up the group. Even though I have seen them many times lately I'm still shocked how together they are especially the rhythm section, they are playing like they have something to prove.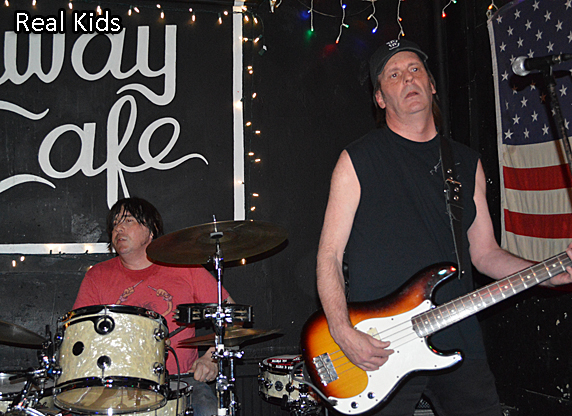 Dickie Oakes on bass and Randall Gibson on drums are tight and unrelenting. The thing about them this night is the impression that they will not stop or flag for anything; that quality gives this set its power. As each song starts they are pounding every note. Randall is hunched over his set giving every ounce of concentration to the job. He's both a slave and master of the beat. He's not playing many fills; he's just slamming the two/four beat. When he finally does play a series of drum rolls in All Kindsa Girls during the encore the release of tension is ecstatic. I felt as if my feet left the ground. Dickie's tone is so good I take out my earplugs for a while to get the full measure of it. I've never done that for any bass player ever. Sweet.
John Felice and Billy Cole were doing what only they can do. The riffs and the guitar tone were all doing their magic. Another result of the summer woodshedding is the tighter vocals. John's guitar work is sharp with lots of those favored double stops that sound like early rockers Buddy Holly and James Burton.
One of the highlights was the one two punch of Shake Outta Control and All Night Boppin'. My favorite section is the trio of songs they do with Billy Cole on the twelve string. These are highlights but the set was essentially a seamless success. This is as good as it gets.
The actual gig was fulfilling as a listener but with the Real Kids there's always the meta aspect, those decades of rocking history behind them, those personal and professional ups and downs. I can't help but think that this night was a legendary gig. It was a top tier performance by a classic veteran Boston punk outfit that fits into any recollection one has of them. You can hear people saying now, " I was there that night at the Midway. "
Another thing about this gig is that it was earned with hard work. It wasn't luck or just a good night, it was months of concentrated effort by four guys, who already had all the talent and chops, to get it right and tight. No one there at the Midway has to be told how great the result was but we're telling you…this was the gig you should have gone to.
Earlier in the week was an interesting line up of psych bands at the Middle East on Wednesday; I caught two.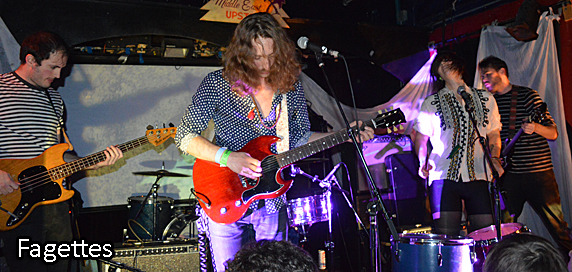 The Fagettes have been playing a few years but I've never caught enough to get an opinion. This night I did. As I walked in they were playing to a full club and audience was responding. They were very psych and set a good mood helped by three liquid light projectors and a film camera that sometimes was showing movies and other times was a live feed of the room. Fagettes Bandcamp
The two guitarists were playing the same chords in the same positions on the neck – that's a chance for creativity lost to redundancy. They also did a doubling up with drums – two sets with both drummers standing up. At times that enabled them to get a tribal beat going and with some repetitive lyrics it made for some captivating chants; all and all not too bad.
I was wondering who the draw was this night. The way Black Beach was greeted answered that question. The crowd jammed up front before they came on and started to mosh quickly and that moshing never stopped the whole set.
The lead singer/guitarist had blond hair, red flannel shirt and a green pastel guitar, you couldn't fail to think – Kobain. They were also helped by the involving light show. They were psych-rock with a forceful punch. Nothing laid back about these guys.
They were playing in the template of psychedelic music but with attributes of current sounds and styles. I felt like this was a real synthesis rather than a rehash or re-creation. They were in new territory and that was intriguing. The guitar playing dispensed with all sixties models, there was nothing Hendrix about it. It was playing for effect with no showboating or guitar wankery.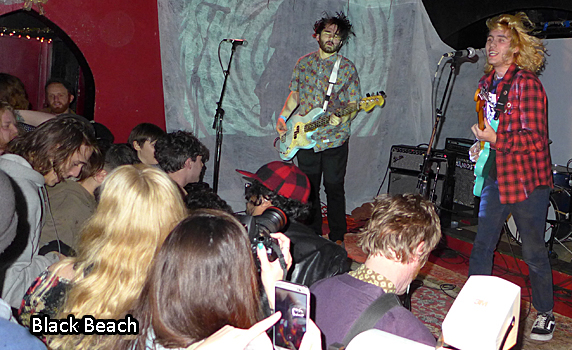 The crowd was hanging on to every note. During the last song the singer jumped into the mosh pit. He was soon carried overhead and given a sort of victory lap around the pit and then dumped on stage to hardy cheers. It was very exciting, a topper to a memorable set.
Black Beach are local which means I will be checking them out again. I didn't get the things I heard live on their recorded material but here is Black Beach on Bandcamp
All these groups playing psych-rock are playing it outside of its original cultural elements of drugs and politics like the paisley underground bands of the eighties did before them. I don't think there's anything wrong with that either. Psych is a legitimate style that anyone can appropriate and those drugs and politics could be real downers.
This night was put together by Illegally Blind who have been putting on shows of interest lately. They are having a Holiday Party at Zuzu on the 17th...see below in the listings for more info.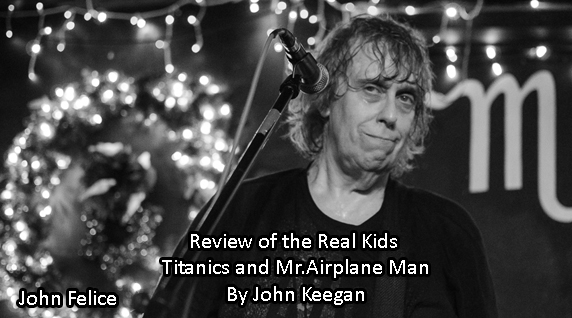 In other news: YEE YEE!!! Captain PJ benefit is a definite for Saturday December 27th...see below for particulars.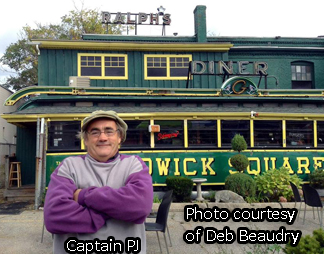 Joanie Lindstom travels the globe and now we get to see the record shops in Holland and Belgium and the bars of course. Joanie's Holland?Belgium vacation.
And here's a listing s of shows we think are pretty damn worthy:
Dec 15th (Monday) - Great Scott is having their Holiday Party with the Scrooges and Party Bois.
December 17th (Wednesday) - It's the Illegally Blind Holiday Party at Zuzu's. it starts at 10PM there'll be Drinks, (christmas) trees, local music, vibes and its FREE.
December 18th (Thursday) wooo- check this out- Agnostic Front, Hammer and The Nails, Cheech and Penalty Kill at Church .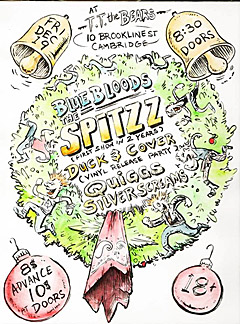 December 19th (Friday) there's a exciting show at TT's first off SPiTZZ are playing their first show in 2.5 years!!!, also on the bill are the Blue Bloods, Duck & Cover and this gig is their vinyl EP release celebration), also on the bill - Quiggs, and Silver Screams - this will be a great show folks!!
December 19th (Friday) - The Handymen are at The Plough & Stars
December 20th (Saturday) 8:30pm Xmas Party/show at O'Brien's Pub Only $3 with canned good donation for charity. It has Kermit's Finger and the Jonee Earthquake Band with the addition of an open mic...2 songs but has to be seasonal songs!
December 20th (Saturday) A Crash Course For The Ravers this week features Bird Mancini & The Blackhat Project- 1-4PM WMFO 91.5FM
December 20th (Saturday) - It's Thrash'n'Bang's Third Annual Christmas Pizza Party withThe Pity Whores, The Radicals, Lucky United, Fast Times and Phil McCaffery. it's all happening between 4pm- 8pm at The Midway plus there's Free pizza all day long! and only a $5 cover. (All-ages)
December 20th (Saturday) Jittery Jack and Bloodshot Bill are s at Atwoods Tavern on Cambridge St. in Cambridge (near Lechmere). It's a Rockin' Holiday celebration--and you'll be able to pick up a copy of Jittery Jack's new 45 "Something Wicked This Way Comes" and Bloodshot Bills "Stuffin Her Stocking" at the show. As an added treat - Easy Ed spins the platters early, late, and on the breaks.
December 20th (Saturday) - The Banditas are at The Plough and Stars along with John Maloney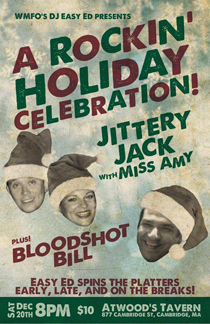 December 23rd (Tuesday)- It's TT's Christmas Party with Aquanutz, (at midnight), Mike the Considerate and the Interns (11PM) Keytar Bear (TT's staff house band!,) and others.
December 27th (Saturday) In Wistah, at Ralph's it's the Captain PJ Benefit!! So far on the bill are Musclecah, M.O.T.O., Classic Ruins (with Jeff Crane on guitar for this show!!) , Bottlefight and Kenne Highland, Dumpster Fire, The Performers and The Time Beings. Please put this in your calendar and attend, PJ will need some help. For more info see the FB Page for this event!!
December 27th (Saturday) - Charlie Don't Surf, Grenades In The Archives and Garbage Point are doing an afternoon show at The Midway (4-8PM) all ages.
December 27th (Saturday) there's a very cool Holiday Music and Comedy Benefit to help puppsters!! besides that Endation is playing the show! At the Davis Square Theater there's a benefit to help Last Hope K9 Rescue: for music you get Darling Pet Munkee, Endation, and The Easy Reasons and for comedy you get Sam Ike, Conor Allen, Kaitlin Buckley, Kenice Mobley and Josh Gondelman...and there'll be prizes too win too.
December 31st, Wednesday NYE!!! - THE MIDWAY NEW YEAR'S EVE P-A-R-T-Y!!! with Marianne Toilet And The Runs, The Knock Ups, Looker, Fur Purse and Night Slice!!!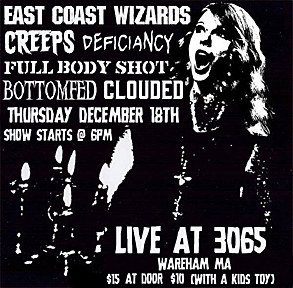 January 2nd (Friday)- Sasquatch & The Sick-a-billys, The Radiator Rattlers and Diablogato are up in Salem at Opus Underground
January 2nd (Friday) Sprained Ankles, Bunch of Jerks and Muck & The Mires are at the Plough
January 9th (Friday) -M.O.T.O. , Jay Allen & The Archcriminals, Hambone Skinny, Classic Ruins and Andy California at The Midway
January 15th (Thursday) Powerslut, Fur Purse, Hammer and Snake and Axemunkee at O'Brien's
January 24th (Saturday) A great punk hardcore oi matinee show (4-8PM) at The Midway with Rat Trap, Blastmat, Barfight Champs, Pus and Aftermath. this is an all ages show.
January 30th (Friday) - Here's another Endation gig in town again!! We were blown away by them the last two times we saw them. Here's some info from the last time we got to catch them. So, at O'Brien's we have Bent Knee, Something Like A Monument, Left Hand Does and Endation - dont miss these guys they are amazing!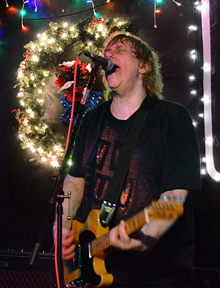 January 31st (Saturday) at Sally O'Brien's conveniently located in fabulous Union Sq Somerville - Muck and the Mires, Tsunami of Sound and The Shambolics.
February 7 (Saturday)- The Middle East has The Drax (Goddamn Draculas) Record Release Show along with Aquanutz, Township, Planetoid, and Party Bois
February 13th (Friday)- Nice Friday the thirteenth show!!: The Cretins, Duck and Cover, Scrapes, and The Quins are at The Middle East Up this is a LeaguePodcast show
February 13th (Friday)- Tim Catz' 50th Birthday Party featuring White Dynomite, The Humanoids, Muck And The Mires, Worshipper and DJ sets by DJ Slim Jim at Great Scott's
May 22 (Friday)- You have been warned - Book the flight now: Sleep Chamber!! Doing their only show in 34 years in Tel Aviv, Israel at UTC+02. Not only is this their first show in 34 years - its their LAST SHOW ever.
CONTACT US AT......misslynbgn @ yahoo.con Send us your gig listings, your news and anything else ya got!!