The BGN News Archive
August 20, 2012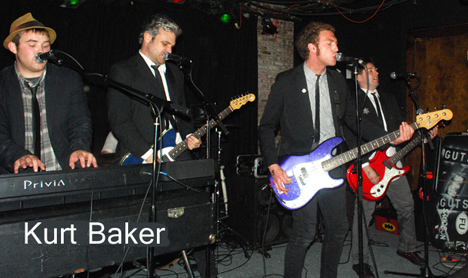 I didn't' get the connection that Artie and the Amoebas included Artie Sneiderman ( VIDEO - Stop Take a Look at Me ) or I would have been at the Rosebud on Thursday. My excuse would be that I was still coming down from the previous weekend. Good gigs are coming a mile a minute here in late August. Paul Collins at Precinct drew the devotees judging by Facebook postings. The Queers show on a boat in the harbor was another neat choice.
I was drawn to Great Scotts on Thursday to see what ended up as a repeat of the show I saw there in June with Kurt Baker and ZipGun Bomber. If you like pure pop Kurt is like an ice cream Sunday, deluxe indulgence. I couldn't let it go by and Kurt did not disappoint. His band is polished and professional. They take care of business as Kurt doles out the pop, song by song, no let up at all. He's a machine. Kurt has CD's and vinyl (both LP and 45) available and has another CD coming out. The release party is in a few months at The Plough and Stars. I'd like to see Kurt get on some different bills at other clubs to get this Portland talent better known around town.
To salute Paul Collins here's Kurt Baker's version of Hanging On The Telephone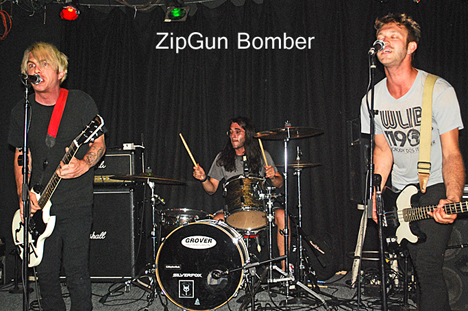 ZipGun Bomber is straight ahead punk in the Green Day vein and they are good at it. The lead singer seems born to do it; he's very comfortable in his skin as he and the band put out a satisfying set. They have an EP that you can download for free at their Bandcamp page that is a good representation of what they do.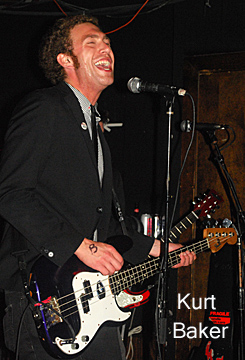 A surprise announcement from Tim Kelly who said he was leaving Boston after 20 years to move to Washington D.C.. Tim did a fantastic job on WMBR's Late Risers Club showing great taste in picking groups and songs that I would liken to Albert O. His knowledge and taste in music is what made us chose him to do our Top Ten song list for a while. He moved to his own show on WMBR playing all local music while working at the Middle East. We'll miss him. He was a big asset to the scene.
The DUCKY BOYS had a successful Kickstarter run and has funded their new full-length album.
Kickstarter is another piece of the new model that has changed the landscape for groups getting heard. It's a whole new world out there and it's very friendly to DIY efforts.
This week the FU's are playing O'Brien's on Wednesday .... on Friday Brave Combo, they that brought polka to punk, are upstairs at the Middle East. They have been together since 1979.
Also on Friday...a great show with Cocked n Loaded with their balls to the wall straight ahead rock and our favorites the Acro-brats...at Radio. ...then on Saturday another fantastic line up ....The Beatings, Black Helicopter, Louder My Dear. Radio has also scooped up another gig by Billy Rath on the 30th.
We were super impressed by Young Adults when we saw them. They have a gig at TT's on Thursday August 30.
on Sunday September 2nd there's a lot going on: Unnatural Axe will be making their ONLY Boston appearance for 2012 at Radio on September 2nd and to make it even more special he's bringing over a band called Guida…from Rome…here's their song "Number 10"
Saturday, September 8th sees the next instalment of One Night Band. A great idea...the web site explains... Founded by Boston Band Crush and launched in 2009, One Night Band is a day-long music experiment in which 40 selected Boston musicians are randomly shuffled into bands of five on a Saturday morning. These newly formed bands must prepare a four-song set (including one cover) to play that night in front of an audience at legendary Cambridge rock club the Middle East.
Bob Mould plays Copper Blue, he later went accoustic but this is the stuff that made him lose his hearing, and Silver Age Monday, September 10 at the Paradise....after that the next two days are the Jesus and Mary Chain.
Friday, September 14 The Woggles do their thing and it should be just wild in the small space of The Plough and Stars.
SWANS are at The Paradise October 11th!
….And of course everyone is buzzing about the Human Sexual Response reunion…All the original members…at the Paradise on Saturday, November 10th tix have finally gone on sale!!
Kickstarter projects : Hixx is working on a full length release…help 'em out here….
John Surette (Boy's Life) is putting together a Punk Rock Opera called "Tomorrow The World" and his list of musicians is very impressive: The musicians and singers appearing in the Rock Opera are Johnny Blazes (the Pretty Boys), Dennis McCarthy (Ape Hangers, Prime Movers), Bo Barringer (Future Carnivores,Me and Joan Collins, BRO), David Minehan (Neighborhoods, Woolly Mammoth), Mali Sastri (Jaggery), Marnie Hall (Robin Lane), Joel Simches (Count Zero, BRO) Tee Jay (Walter Sickert and His Army of Broken Toys, Pretty Boys) a reunited BOYS LIFE!!!!! John Surette, Robert Weiner, Chris George, Neal Sugarman (Sugarman 3, Sharon Jones, Amy Winehouse). They are at the halfway mark and and need your help to finish!!!
EMAIL US AT…….misslynbgn@yahoo.com