The BGN News Archive
November 30, 2020
Memories of ONCE by John Keegan
We got a shocking notice this week....JJ Gonson sent out an email (Read email here.) that what has been a very vital entity, ONCE in Somerville, has closed.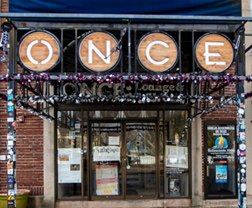 It's all the reasons we know, it's all about Covid 19 and the shutdown. Once kept going with money from fundraising and then a government small business loan but that's all run out. Wednesday 11/25 it was announced that it was all over. In the announcement Gonson talks about picking up again after Covid 19 has run its course, but in a different location. She also mentions that the Once Virtual Venue will continue - that is excellent news!
She also talked about the unique things that made Once such a cool place - "The mirrored walls, gold ceilings and chandeliers" and that front entrance, the stairs into the club...as distinctive a place as the steep stairs down to the Rat. It marked your night and will be something to remember.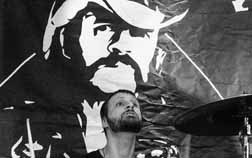 Once was able to get acts that smaller clubs couldn't get because of the capacity: Robert Gordon, Dream Syndicate, Death, Roky Erickson, The Monochrome Set, and the Dead Boys reunion ... just to name a few. There were a few special shows they created, like Lemmyfest which immediately became a THING and people were looking forward to that every year. Then there were the holiday markets and outdoor bbqs etc. And of course we all enjoyed the upper lounge as well, it was intimate and comfortable. There was that Lyres show that went on for hours! ... Unforgettable.
Anngelle Wood of Boston Emissions rebooked her Rumble a few times and then gave up as the quarantine lengthened. Now, the club itself is gone. The Rumble will have to move again. And we won't miss trying to park on a Saturday night. We missed a few shows because we couldn't get parking.
To support ONCE in the meantime you can get on the Once Patreon page and/or buy some goods at their ONCESomervilleShopperville shop. Also you can subscribe to the Once YouTube channel. And make sure to bookmark their ONCE website for info on upcoming Virtual Venue shows etc!! And ... JJ Gonson has some outstanding photographs for sale on her site: JJ Gonson Photography
This changes the landscape. It's November. Can clubs hold out till the vaccine is wide spread? Can they last till March, a full year closed? We haven't heard anything from the Middle East. What's going on there?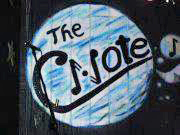 The C-Note in Hull is struggling to outlast the pandemic. Saturday they had a live stream of Draw the Line, the Aerosmith tribute band, as a fundraiser. That live stream can be seen here The C-Note means a lot to South Shore people. There have been so few clubs playing rock in the area, never mind a nice welcoming place like the C-Note. They are halfway to their goal on the GoFundMe campaign. You can give to that here: C Note Benefit Fund.
The Cabot Theater in Beverly is still going. As a matter of fact they are celebrating their 100th Anniversary. They started right after the last pandemic; the flu in the early 1900s! On December 5 they are going to have a live stream of Richard Thompson and many other quests. It's free and all are invited. See details here: Celebrating 100 Years of The Cabot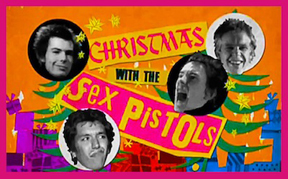 Tired of seeing The Nutcracker every Christmas?? Try Christmas With the Sex Pistols 1977 on DVD. This was the Sex Pistols last concert in England ever and it was a kids Christmas concert!! The band put on silly hats and played with 7 and 8 year old future punks.
Some of the action is described: "Children hit the dance floor with Sid Vicious to boogie to the latest pop hits. Johnny Rotten handed out gifts to the children—buttons, posters and even skateboards painted like the "Never Mind the Bollocks" album cover. There were games and even a pogoing contest. There was a big cake with Sex Pistols written on it. Johnny cuts the cake, hands out slices to the children, and soon a cake throwing, food-fight breaks out and the Pistols are covered in cake."
Get the DVD from Video Beat: CHRISTMAS WITH THE SEX PISTOLS DVD - 1977 Concert Footage ... With it comes a video of Johnny Rotten taking you on a bus tour of London.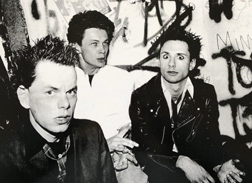 LA punk band The Screamers from were more talked about than heard. They never had an official release, just a lot of bootlegs floating around. Now, the band's first ever official recordings will be released. Demo Hollywood 1977 is out January 22nd, 2021. It will have five songs. "Magazine Love", "Punish Or Be Damned", "Anything", "Mater Dolores," and "Peer Pressure." "Punish or be Damned" can be heard here.
Far Out Magazine has an article on CBGB's: From Ramones to Blondie: 7 of CBGB's most iconic performances of all time. They have videos of groups at the club: Ramones (1974), Talking Heads (1975), Blondie (1977), Beastie Boys (1982), Guns n' Roses – at the CBGB's Record Canteen next door to the club (1987) , and Dead Boys (1977) and Patti Smith.
The Dead Boys video captures Stiv Bators in a performance that says it all!! If you never saw the Dead Boys then this will show you what was going on. The last video is with three 2006 performances by Patti Smith at the closing day of the club. Read & Watch here.
Patti Smith had a Black Friday live stream from LA this past week. It was a calm, thoughtful and kind of somber hour.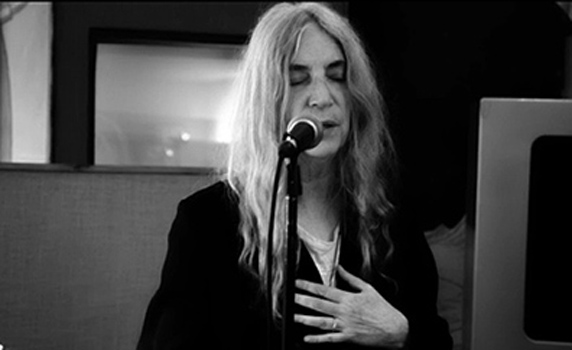 Patti Smith
She was joined by her daughter Jesse Paris Smith on electric keyboard, and bandmate Tony Shanhan on piano and acoustic guitar....and a very tasteful camera crew shooting in color and black & white. Patti opened with a reading the last (last, last) entry from her new book Year of the Monkey, written just before going on stage for her final live performance before the pandemic, at the Fillmore West. Then she sang "My Blakean Year". She noted that Neil Young's birthday was earlier in November (the 12th) and sang "After The Goldrush". She followed that with her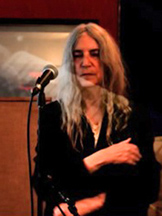 Amy Winehouse tribute "This is the Girl". Then wished a happy birthday to Jimi Hendrix, whose birthday is 11/27, and sang her song "Elegie" from her Horses album. She dedicated Dancing Barefoot to all the "women...singers, dancer, legislators, artists, poets.....etc. "Women" But Dancing Barefoot is so much about giving in to the feeling of falling heavily in love ... like she did with Fred, also departed. Her last two songs were "Beneath the Southern Cross" dedicated to all lost to Covid 19, followed by "Pissing in a River". (Here's a vid from 2013 of her Tony and Jesse doing Pissing in a River) Patti's more recent shows are usually pretty uplifting and she cracks jokes and tells amusing stories. (We saw her do that in 2016 and 2017) This performance was most likely to promote her new book which is sort of walk through waking and dreaming world, and remembering and lamenting the loss of loves and friends; Fred Sonic Smith, Sam Shepard and Sandy Pearlman. It ends with her feeling bleak about the election of Trump, his divisive behavior during his presidency, the Covid 19 pandemic (and Trumps appalling mishandling of it)... and of course Climate Change. No wonder it was a somber hour! But this performance was mostly elegiac really, as Patti admitted it was "a remembrance of those departed". The camera work helped much to set the mood as well. However somber it was a fantastic hour, as is any show by Patti Smith! She is an amazing talent and is still so productive and creative after 40 years. She dedicates "Dancing Barefoot" to all the amazing women out there and she is most definitely up there on the top!!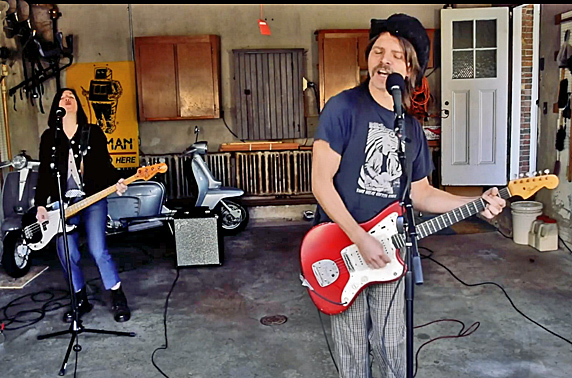 Garagecast
Linda's Garagecast was a duo this week. They took on a big chore…to play The Records "Starry Eyes" with just two people. Ad Frank did a fine job maneuvering through the intro licks. Watch it here.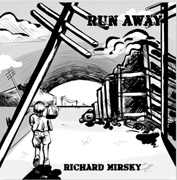 Richard Mirsky has a new website....and he has a new album Run Away, which will be out by Christmas. It was all created in quarantine. On the site you can see the 10 groups he's been in that have albums out and you can buy the CDs, including pre-ordering Run Away now. You can listen to one of the songs of Run Away, "What's My Name?" ... you can even join his mailing list! Check it out: Richard Mirsky.
There's a nice long article in the SF Weekly on 415 Records: Pioneers of Punk Get Reissue Series. Liberation Hall Records is reissuing music from the early days of the label in the next couple of months. 415 Records was created by Howie Klein. They put out one of the earliest San Francisco punk bands The Nuns, which included Alejandro Escovedo. Then they had: Pop-o-pies, SVT, The Readymades and The Mutants.
We like reading about those people who did it themselves because it mirrors the people who were doing similar things here in Boston. That was the punk spirit that was happening in the mid-seventies. Read the article here: 415 Records:
Brian Coleman's Buy Me, Boston Volume 2 is out. The only thing like it is the original volume. It's a one time out of the box idea. Volume 2 does everything the original did, which is turn on that nostalgic faucet that all Bostonians have for the city in the 60s to 80s. It doesn't take anything more than seeing some ads for the cinemas that were out there. For us club goers it's the club listings that are so evocative. Coleman has the ad for the Battle of the Bands at The Club in 1976. That was one of the first times you could say the Boston punk scene came into focus. It also shows what these books do…they show you history via newspaper ads of the time.
There is a lot of material jammed into the 282 pages (and nice quality pages too). Something in there will trigger your memory and it's off to nostalgia land. Coleman has it a few cool stores but you can also get it via his website GoodRoadGoods
Tsunami of Sound released a video of their song "Motor Oil", it has a jam/rave up in the middle which is unusual for Tsunami. It's a colorful cartoon with an environmental theme. We think this should be the first in a series: Motor Oil.
So what is T Max doing now that The Noise has stopped publishing? (Besides befriending the squirrel Bennie that is) Club Bohemia went to find out. See the interview here.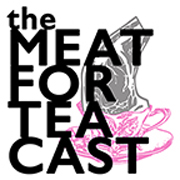 Roger Miller of MOB was interviewed on the podcast called Meat for Tea on Saturday November 21. Roger has a lot of projects going. Even in the quarantine he's recording. He also revealed that he sold his entire installation piece at the recent Brattleboro Art Museum to an art collector in Vermont. He talked about the early days getting Burma together as well as his new group Trinary System and about his Dream Interpretations for Electric Guitar where he will take musical directions from a dream story. He's kept a dream journal since 1971.
Outside of Roger, the Meat for Tea itself has things of interest. They are surrealistic oriented. They have a quarterly magazine that seems to be filled with surrealistic projects from artists. We plan on checking out a few issues. Here's the Roger podcast. MEAT FOR TEA : The Valley Review Here is Roger Miller's website and Roger's group Trinary System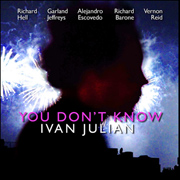 There's a new documentary called You Don't Know Ivan Julian. Ivan Julian was the other guitarist in Richard Hell and the Voidoids beside Robert Quine. We thought Quine did all the lead work on the records but in the documentary Ivan shows how he wrote the intros to "Love Comes In Spurts" and "Blank Generation". Those are two amazing moments!! Julian has a career beyond the Voidoids. He was a guitarist for hire, most notably seven years with Mathew Sweet and then with The Clash. He has a recording studio in NYC and he has some solo work, and produced an album for The Fleshtones.
The documentary is well done and is a short 48 minutes. It's much worth viewing to get up to speed on this musician who was at the center of NYC's punk creative hot spot. At the moment you can view it on Amazon for $2.99. And while you are in there you can see Richard Hell & the Voidoids – Blank Generation for 99 cents. (Both are free if you have Prime!)
And one more documentary in there is Melody Makers which is the story of the English magazine Melody Maker that we all got at Harvard Square's Out of Town magazine stand back in the day. That one is $2.99 to watch.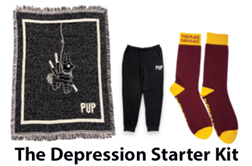 Hey, now that Thanksgiving is over, Christmas will be the next holiday we don't have! You may not see the rest of the family but you can mail them some gifts and why shouldn't they be locally made?
Allston Pudding has a local artist gift guide right now. It's the Holidaze Gift Guide. There's socks that say " I wish I could skateboard", a pouch inscribed with "Mountain Goats get high and listen the The Cure", a Punisher holiday sweater, there's masks, bandanas and T-shirts... but our favorite is the Covid Depression Starter Kit. It includes sweatpants, a 'morbid' blanket and socks that say "this place socks ass". Go get your gifts!!
CDs/ Music......
Freddi Dilevi strikes again with a new song called "A Place For Us". It's another unique mix of punky guitar and traditional ballad singing on top. – when it's Dilevi's voice we heed the call of the siren. Evidently he can do this over and over . Our post Covid dream is to go to an actual live show with a bill of Freddie Dilevi and Kurt Baker.
Before he was recruited to The Hi-End we saw singer Johnny Carlevale in a rockabilly group and then a horn heavy New Orleans style rhythm outfit. Thus, we know he brings authoritative vocals to many styles. These last two weeks Johnny has been busy posting some projects. There's the unreleased rockabilly track called "I'd be Lying If I Told You the Truth".
Then there was 11 tracks of some gypsy/swing/jazz material.
Early this week he released the first of three singles from a group called The Wandering Ones, an R & B oriented outfit. The first song "He Don't Deliver on Sunday" is a straight up boogie blues. The group has less a rock orientation than a blues one and that makes it feel grittier than we're used to. Once they lock into the boogie beat there is no denying the groove, you have to move around.
Where ever Johnny's voice goes – we follow.
Brad Marino had a Christmas EP in 2018. He has remixed on song from that called "Almost Here," about a loving couple deciding to have Christmas alone and see the extended family on the Fourth of July. It's a moody piece that reflects a true Christmas situation for many in any year but especially this quarantined year.. It's a Christmas song that you can play a lot because it doesn't force that Christmas spirit down your throat. You can hear the new mix here on Spotify.
The old Christmas EP mix is on Bandcamp:
One of the great punk albums Group Sex by the Circle Jerks is getting a rerelease. It's been remastered and comes with a deluxe booklet. More about the rerelease at Punknews.org.
---
Coming up.....
Virtual/ Streaming/Online Events.....

Dont forget to check out Linda Bean Pardee's Linda Garagecast every week.
Thursday Dec 3 - Deathhand, Jenn Lombari (of Stubborn Hearts) and Alec Morrissey... live stream from The Midway. Link here!
Friday Dec 4 - Linnea's GArden Superspreader Release show on Once Virtual Venue
Sunday Dec 6 Once Virtual Venue Holiday Buzz Market
Saturday Dec 12 - Lily Black Band, Paper Tigers on Once Virtual Venue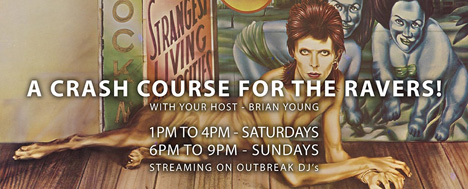 Sunday Dec 13 - Girls Rock Campaign Boston winter social.....FB page here.
Thursday December 17 -7-9:30PM - Talkin' to Dracula and his Crew: Goth subculture and horror, a lecture - Miskatonic Institute of Horror Studies Brooklyn NY FB page
Live shows??? .....
April 19, 2021 (Monday) Rescheduled - Dead Can Dance at The Wang Theater
April 29, 2021 (Thursday) Circle Jerks Plus Special Guests at the paradise (this is a reskedged show) FB page
CONTACT US AT....misslynbgn@yahoo.com Send us your gig listings, your anything else ya got!! You want your CD reviewed?? Contact us for that too.
---